Wednesday, 13 November 2019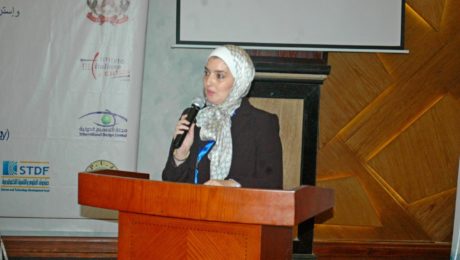 Amman- The Middle East University participated in the conference "Modern Trends in Architecture, Arts, Heritage, Literature, Development Strategies and Education in the Mediterranean Basin – New Horizons in Innovation, Innovation and Technology", which was held in Alexandria.
In a speech delivered at the opening session of the three-day conference, Dr. Tamara Yacoub Nasser Al-Deen, Assistant President of the Middle East University, reviewed the philosophy of the Middle East University in the fields of promoting arts, small and medium enterprises, social responsibility, cooperation with the public sector, partnership and cooperation with academic and research institutions. International level.
She pointed out that the University of the Middle East hosts many programs of the University of Bedfordshire British at the level of bachelor, master and doctorate, and establish partnerships with Arab and foreign universities, most recently the joint program in pharmaceutical and pharmaceutical sciences with the ancient Scottish University Strathclyde, in preparation for partnership in other scientific and research programs, indicating that this It is a living example of cooperation that serves science, knowledge and culture alike.
Dr. Tamara praised the profound positive impact of the Arab Cultural Capitals Program, pointing out that Jordan benefited from this experience and established the Cultural Cities Project, where cultural events will move from traditional arts, literature and traditional industries developed every year from one city to another.
The Middle East University delegation, which participated in the conference, also included Dr. Saida Afaneh, Head of the Department of Tourism Management at the College of Business, and Dr. Nahla Al-Nazer, a faculty member in the Department of Business Administration.