About
Middle East University, established in 2005, is a distinguished Jordanian university offering a variety of highly demanded Master's and Bachelor's degree-granting programmes. Located a few kilometers away from Amman and near Queen Alia International Airport, MEU has been granting postgraduate degrees in 11 different majors since its inception, and boasts 2,978 graduates from these programmes to date. MEU's undergraduate programme, which launched in the 2008/2009 academic year, has produced 4,214 successful alumni, and offers 21 majors.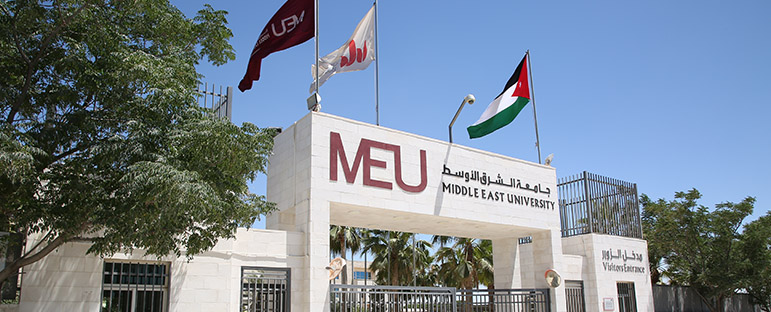 ISO Certificate
Middle East University was awarded ISO 9001:2015 according to its effective application of the quality management system required by ISO 9001:2015.
ISO 9001:2015 adopts a methodology of operations management that consists of (P-D-C-A) and thinking fixated on risks, through the identification of possible risks that could affect the University's operations and analyzing those risks by outlining the elements that could affect or be affected by internal and external operations, to ensure the effective management of operations, maintain the University's educational outputs, and take the necessary preemptive measures beforehand.
The University acquired the mentioned certificate after DNG.GL-Jordan's inspection of its effective application of the quality management system throughout its departments and faculties by adopting a well-rounded management system for operations related to higher education and scientific research, accompanied with the University and its higher management's commitment to the development of the University's operation performance and academic Programmes to elevate the quality of outputs according to international standards and requirements of labour markets.
QS World University Ranking
Middle East University (MEU) celebrated yet another international achievement by attaining a three-star rating from the QS World University Rankings for the world's best (800) universities. The efforts exerted towards the realization of the said achievement stem from the University's educational system, which is based on excellence and creativity according to national and international standards. The University aims to join the leaders of international competition in a manner worthy of Jordan's academic reputation.
QS World University Rankings lists the world's best (800) universities, and in order to attain a QS rating, the University thoroughly reviewed the set conditions, and considered the significance of increasing knowledge and competitiveness. For this purpose, it held multiple training workshops that lead to a pleasant result; the University attained a five-star rating in three core criteria, which are: education, community service, and university environment. Its ratings in the remaining criteria ranged from two to four stars.
The University's attainment of a five-star rating in education and academic reputation was due to its qualified educational staff. In terms of community service and societal responsibility, it was bound to land the full mark for the services it offers to the community and its members. As for university environment, the University provides sports and service facilities, as well as library services, and facilitates the access of special needs students, all according to the Rankings' standards.
Golden Level
In 2018, Middle East University (MEU) obtained the Quality Assurance Certificate (Golden Level) issued by the Accreditation and Quality Assurance Commission for Higher Education Institutions after applying the standards of quality assurance for institutions.
Obtaining this certificate attests to the University's concern with enhancing performance in all affairs upon its belief in its vital role in uplifting Jordan's higher education. It also confirms the University's commitment to the culture of quality, through which it arrived at this monumental achievement. Credit is due to the collective efforts exerted by the University's associates in academic and administrative units, in cooperation with the then known as Quality Assurance Office. It is worth mentioning that MEU ceaselessly seeks the distinction and elevation of academic and administrative processes; for it has also acquired the ISO 9001:2015. Moreover, the University hosts academic programmes from the University of Bedfordshire, by which granting BA, MA, and PhD degrees. It has recently launched a joint programme in pharmacy with the University of Strathclyde, in a salient demonstration of its local, regional, and international academic repute.